Nearly 200 people attended our performance of Rossini's Petite Messe Solennelle on May 12th. Here are some of the comments:
One friend said it looked as though we were all enjoying ourselves. Several said it was the best they'd heard from us!
"It was a wonderful sound and a most unusual but enjoyable Mass. The choir has come on tremendously over the last couple of years."
"The soloists were wonderful and the choir as good as, if not better than, I can remember."
"Well done one and all."
"Tremendous! We thought the choir was excellent."
"An extremely enjoyable performance. Please may we hear more of the choir?"
On Saturday 14th July the choir presented an evening of Jazz.
The programme consisted of
Take the A Train  Band
Let's Fall in Love and This Masquerade  Vocalist Kay Octigan and Band
Soarin' High Instrumental movement from A Mass for Life – Band
Night Train Band
Honeysuckle Rose Mike Thorn
Deep Purple Andrew Wilson and Andrew Daldorph
Round Midnight Kay Octigan and Band
Deep River Kay Octigan, Band and EDCS
and
A Mass for Life by Andrew Daldorph
for Choir and Jazz Quintet
The concert was well received by a large and enthusiastic audience.
Amongst comments were:
"You could see how much the choir enjoyed itself as it was so animated."
"The choir showed it can rise to the challenge and adapt to Jazz after its classical background."
"Blending the (hidden) choir into Deep River was very effective indeed."
"The instrumentalists  were great. I particularly enjoyed the contribution of the saxophonist Andrew Wilson."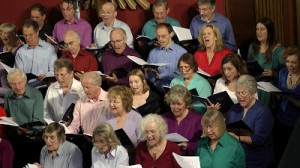 Messiah
A performance of Handel's Messiah was given on December 8th at St George's Church with Orchestra.
"Augmentation by the Tiverton High School was an inspiration."
"An excellent performance."
"What a triumph!"
"I thoroughly enjoyed your performance, it was brilliant."
"You all looked as if you were enjoying yourselves."
Knighthayes Court
The choir gave two enjoyable concerts of seasonal music in mid December.